Thanks all of you for participating in the event with your favourite Fried snack..
Jayasree of Experiments in Kailaskitchen : Crunchy golden
Omapodi
Sree Vidya from Vidya's kitchen : Healthy
Spinach Cashew Pakoda
Naina from Le-Bouffe: Interesting
Sindhi Pakora
(Sanna Pakora),
Potato Mint kebab
and Palak's
Instant stuffed capsicum pakoda
Arti from Breakfast to Dinner: Nutritious
Healthy Green Tikki
Hema from Salt to Taste: Crispy
Vazhaipoo vadai
Beyond Curries Team: Tasty
Ribbon Pakoda
And ever popular
Samosa
Ramya Anand of Simple Vegetarian recipes: Tempting
Butter murukku
Inviting
Ribbon pakoda
And attractive
Crispy thattai
Rekha from Indian Food recipes: Mouthwatering
Palak Para
Sweet
Shankarpali
Crispy
Khara Shankarpali
Shruti Dinesh of When I play chef: Yum yum
Momo
And popular
Onion Bajji
Faiza Ali from Faiza Ali's kitchen: Tangy
Gobi manchurian
Shanthi Krishnakumar from Shanthi's cookbook: South special
Kunukku
Lata of Flavours and Tastes : Mangalore special
Golle bajji
Yummy
Onion Bajji
And innovative
Rawa bonda
Padma from Padma's Recipes: Karnataka special
Thattai/ Nippattu
Interesting
Chilli bhajji Double Toast
And healthy
Vegetable pakoda
Lubna Karim from Yummy Food: Crispy golden
Potato Chips
Kavitha from Kavithavin-kaivannam: Timepass favourite
Masala Kara Pori
Crispy and sweet
Panasa Thonalu
And tasty
Samosa
Priya Srinivasan from Veggie exploits in the kitchen: Tempting
Onion pakoda
And tasty
Sabudana Vada
Sanghi of Sanghi's Food Delights: Inviting
Veg spring rolls
Tasty
Samosa
Healthy
Mullangi kola urundai(Raddish balls)
Srinithya from Andhra spice: Crispy
Savory crackers
Sadhana & Muskaan of A2Z Vegetarian Cuisine: Anytime
Dahi Vada
Nutritious
Methi Na Gota
Priya Narasimhan from Priya's vegetarian recipes: South Indian special
Dahi(yogurt/curd) vada
Graziana from Erbe in cucina: Crispy
Onion Keftedes
(Fritters) with mint
Saritha of My kitchen's aroma: Popular
Onions bajjis/fritters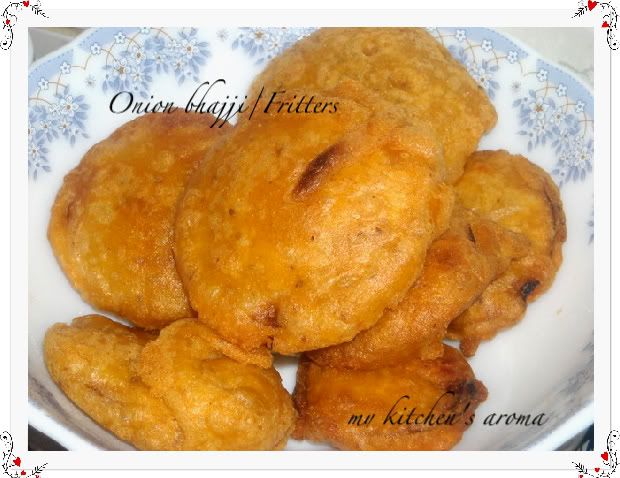 And yummy
Ribbon Pakoda
Sailaja of Sailaja Kitchen: Nutritious
Oats bonda
Dolon Das of Doloncookbook: Tempting
Aloo Tikki Chat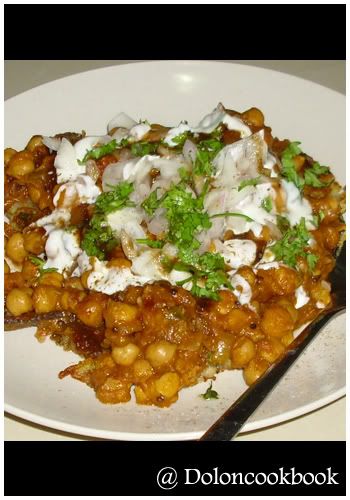 Saraswathi Iyer of Sara's Corner: Yummy
French Fries
Renuka from Fusion : Healthy
Vazhai poo vadai
Shama from Easy2 cook recipes: Tea time special
Bread balls
Tempting
Bittergourd pakoda
Nutritious
Sprouts bag
Minu from Chettinaad Fiesta: Healthy
Rissoles - with sprouts
Lissie from Salt and spice: Popular
Medhu Vadai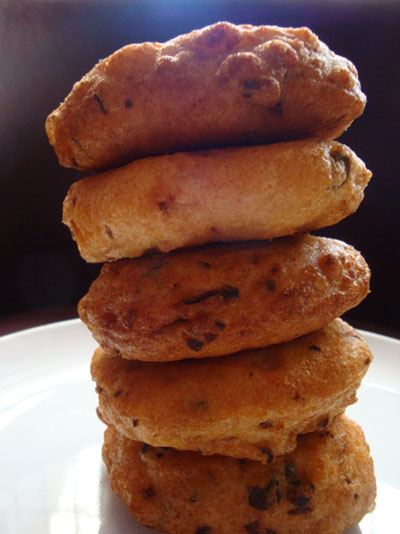 Shoba Shrinivasan from Anubhavati: Crispy
Crunchy & Delicious Vazhakkai Chips
South special
Paruppu Vadai
Mouthwatering
Crisp Bhajjis
Preeti Nilesh of Khaugiri: Healthy
Moong bhaji
Mriganayani: Innovative
Bhindi Pakoda
And quick and simple
Instant Vadai
Rama devi (guest author): Hot and tempting Pepper vada
Ingredients
urad dal-1 cup
bengal gram dal-1/2 cup
ginger-1"
green chillies-6
jeera-1/2 tsp
pepper-1 tsp
coriander -1 tbsp
salt-as required
oil-for frying
method:
soak dals for 2 to 3 hrs and grind it to masala vada consistency.Then grind remaining ingridients and add it to vada paste.Take a plastic sheet and make small vada put a hole in the middle and deep fry it in oil.
Nithya Praveen from A culinary Odyssey!: Hotel style
Crispy Onion Rings
Pavithra of Dishes from my kitchen: Mint flavoured
Pudina pakoda
Pari Vasisht of Foodelicious: Yum yum
Potato stuffed bread rolls
Nisha of Nisha's kitchen : Crispy
Murukk/Chakli
My entries
Sago vada
Vazhakaai bajji
Mattar paneer samosa
In case I have missed out any of your entries, please let me know at easycrafts@gmail.com and I will immediately do the necessary changes..
Thanks once again for participating
This month you also have another reason to cook your Favourite breakfast ...We are giving away interesting cookbooks for the 3 best breakfast dishes ..
Details of the event here ..
WYF: Breakfast